Louise RC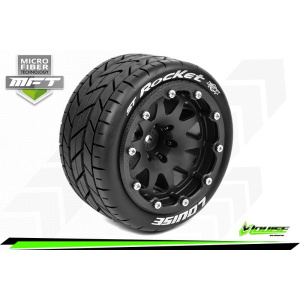 Louise RC - MFT ST Rocket 1:10 Stadium/Monster Truck Tire Set - Soft (2 pieces) (LR-T3311SBH)
This tire set fits Front and Rear
Most 1/10 Stadium Truck models with a 12mm wheel hex adapter and 1/2" Offset
Bead-Lock wheels
For some time now, the popularity of Bead-Lock wheels has been growing, in particular due to their scale-looks of the fixing screws in the outer rings of the wheel.
The big difference between Bead-Lock and regular wheels. With Bead-Lock wheels, the tires are not glued but clamped and screwed onto the wheel. The special way of clamping and the strong fastening of the screws ensures that the tire stays firmly on the wheel.
Due to the extreme loads during driving, cornering and high jumps, the design of the wheel and the materials used are extremely important. The proper flexibility and strength allow the Louise RC wheels to withstand these heavy forces. The wheels are made of a mixture of high quality nylon granulates, charged with fiber or without. These composites have been specially developed by Dupont® for Louise RC.
Tire inserts
The tires are mounted either with special preformed foam inserts or with cut-to-size foam inserts. The inserts are selected in a specific density and size in order to guarantee perfect dampening and form stability of the tire.
MFT Technology
MFT stands for Micro Fiber Technology. This technology indicates the presence of a textile belt in the rubber tread of the tire to prevent the tire from deforming and ballooning during high speed operations.
The MFT technology keeps the tire in shape, even during powerful accelerations and high-speed runs.
The well-known ballooning of a normal tire without MFT technology that disturbs the entire shape and where the diameter of the tire changes under these extreme conditions, is now part of the past. The MFT Technology provides increased stability, significant more road contact and the tire life is extended.
Louise RC has years of experience in producing high performance tires for RC cars. The RC hobby driver and the RC basher have totally different requirements for the tires than the RC competition car driver. From this experience the special sports rubber compound has been developed. The sport rubber compound comes in 2 densities, soft or medium-soft. For the lighter 1/10 cars the soft compound is mainly used and for the more powerful and usually heavier 1/8 models the medium-soft compound is applied.
Tech Specs
Car Type: 1/10 Stadium Truck
Wheel Adapter: Hex 12mm
Wheel Off-Set: 1/2"-Offset
Wheel Color: Black
Wheel Dia.: 2.8" - 71mm
Wheel Type: Bead Lock
Wheel Material: Nylon Composite
Tire Techn.: MFT - Micro Fiber Technology
Tire Compound: Sport - Soft
Tire Size: 119x56mm
Use for radio controlled offroad car (buggy) and other RC models.