Align Spare Parts
470L Tail Rotor Holder (H47T006XXT)
• Use for T-REX 300X / 450 / 470L


• When using with 450 use Tail Pitch Assembly (HS1304B)
• When using with 470L use Tail Pitch Control Link (H47T022XXT)


Content
• 1x 470 Metal Tail Rotor Holder
• 1x Screw
• 2x MR74ZZ-d35 C2 Bearing (3.5x7x2.5mm)
• 2x MR63ZZ C2 Bearing (3x6x2.5mm)
• 2x Thrust Bearing F3-6M (3x6x2.8mm)
• 2x Washer (3x4.8x0.3mm)
• 2x Washer (2x4.8x0.6mm)
• 2x Socket Collar Screw (M2x6mm)
• 2x Screw (M2x6.5mm)
• 2x Socket collar screw (M2x9mm)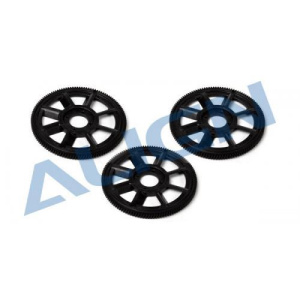 Align 450 Slant Thread Main Drive Gear, M0.6 / 121T (H45156QA)
for T-REX 450 Series


Specification:
• New style high strength 121 tooth Mod 0.6 helical main hear for 450 size helis. The increase gear pitch can withstand higher power, at the same time minimize operational noise. A great upgrade to withstand the modern high power system.
• Utilizes high strength polymer plastic with excellent rigidity and flexibility characteristics.
• Patented unique built in fan design to create induced air flow, effectively cooling electronics and motor.

Features:
• Gear ratio: 1:10.08
• Weight: 35.3g

Content:
3x CNC Slant Thread Main drive gear, M0.6, 121T